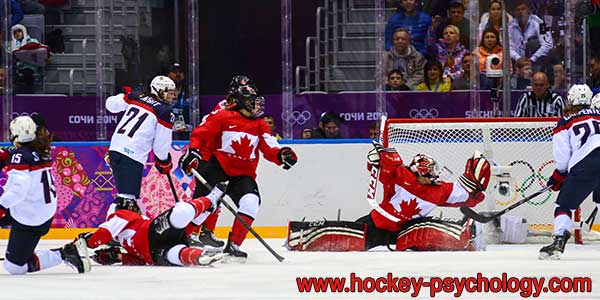 Why Hockey Players Worry
Fear of being benched or losing playing time is a common worry for many hockey players. It is nerve-wracking to keep looking over your shoulder worrying about the next player in line to take over your role on the team.
You become so fearful of making a mistake that your head is filled with a whole bunch of "don't" thoughts… "Don't let in an easy goal," "Don't give up the puck on our end of the ice," "Don't get called for any stupid penalties," "Don't fan on the shot, "Don't mess up, "Don't, don't, don't…!"
It is impossible to play confident hockey when your head is full of "don'ts" and you fear being replaced in the lineup if you mess up.
What's the solution to this "looking over your shoulder" issue?
The answer is easy… Focus on your game!
Focusing on your abilities, strengths and playing your game all contribute to your performance on the ice.
Focusing on your game allows you to play aggressively on the ice rather than re-actively, fearful of the potential consequences of making a mistake.
You may already know the importance of focusing on your game but do not know how to implement this notion.
This is why mental training is so important. Mental training not only teaches you effective mental strategies to play your best but it also teaches you how to implement these strategies in game situations.
For example, the Philadelphia Flyers set an NHL record when the team played their eighth different goaltender this season.
Cam Talbot, the eighth goaltender for the Flyers had 30 saves in his first start to help Philadelphia beat the New Jersey Devils, 6-3.
Instead of looking over his shoulder, Talbot looked to settle into the game by focusing on playing to his strengths.
TALBOT: "The first five minutes I had to get my legs under me but after that I just kind of settled in and made some big saves and that settled me in. Then you just kind of try to control my game from there."
You cannot control how your coach perceives your performance nor can you control how they react to your play on the ice.
In order to play your best hockey, you need to eliminate or, at the very least, minimize worry.
So instead of worrying about being pulled from a game, being benched or losing playing time, you should focus on playing to your strengths.
You can control how you practice and train. You can control how you prepare for a game. You can control your approach to the game. You can control your focus during a game.
By controlling the things that are controllable, you will be able to play worry-free and grow your game.
How to Play Worry-Free Hockey:
Instead of worrying about what could go wrong, define what you really need to think about during each shift.
If you were in the zone, what would you be thinking about? The answer to this question might surprise you–Very little! Over thinking is the internal opponent for many players.
Think about how you will create scoring opportunities on offense and how you will help make a stop or turnover on defense…
Learn more about how to focus your best on the ice with The Focused Athlete audio and workbook program:
---
Improve Concentration in Sports!
If you're an athlete who is frequently distracted, loses focus in competition, or wants to learn more about how to focus better under pressure, The Focused Athlete is for you!
Concentration and the ability to focus under adversity is what championship athletes do best.
It only takes one distraction to enter your mind for you to lose a critical point, miss a putt, or lose a second off your lap time. You cannot afford to let distractions run wild in your mind and cause you to make errors at critical times in the game!
The Focused Athlete is a complete system to teach you how to focus like a champion and harness the power of a zone focus every tie you step on the playing field, court, track or course in practice and games!
This workbook and CD program consists of 2 audio CDs that include 14 days of focus boosting exercises and a simple to follow workbook that guides you through each of the 14 days, helps you apply strategies, and customizes the exercises to your personal focus challenges.
You'll Discover:
How to quickly identify distractions that sabotage your concentration and how to quickly refocus after distractions.
How to use pre-shot routines before shots or serves to help you be more task-focused instead of worrying about results.
How to use pregame routines to help you harness the power of zone concentration before competition.
Learn more about one of our most popular CD programs in The Confident Athlete Series…
The Focused Athlete: A 14-Day Plan For Superior Concentration
What are customers saying about our mental game programs?
"As a result of reading and implementing 'The Confident Athlete Series,' I am once again enjoying golf and letting bad shots roll off my shoulders and appreciating my good shots without attaching expectations. Thanks Dr. Cohn!"
~Stu Blasius, P.G.A. Golf Professional
"Your response to the throwing problem in front of the coach covers so many situations in life…that is the beauty of playing sports…the life learning experiences. Keep up the good work…you are the best mental coach."
~Bill Brennan, sports parent