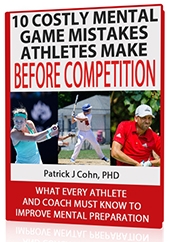 Get instant access to a mental game report to improve your mental toughness. Are you making one or more of these "deadly" mental game mistakes prior to competition? You can improve your mental game with one of our free sports-specific reports below.
with our free mental toughness reports, you'll:
Discover if you have positive or negative pregame jitters.
Identify your pre-competition mental game mistakes.
Learn the important pregame mental skills to boost your performance and success!
Learn how mental game strategies can boost your mental toughness in sports with Dr. Cohn's free mental game reports. You can also select a sports-specific report below….
Hope you enjoy!
FREE MENTAL GAME REPORTS