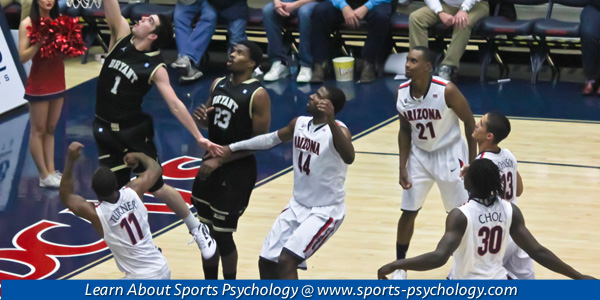 How Long Does Mental Training Take?
One of the top questions we receive about our sports psychology coaching programs is: how long will it take to improve my mental game? As stated in other articles here at Sports Psychology Coach, we do not have quick fixes when it comes to improving your mental toughness for sport. Mental training is an ongoing process of education, application, and tweaking your mental game.
For this reason, we suggest a long-term commitment to mental training. We do not offer one-time sport psychology sessions with athletes. We offer a one-month program, which is the minimum we suggest for a mental training program. A one-month program includes our AMAP assessment, four weekly sessions, and at least four of our Athlete's Mental Edge Workbook system. We suggest to athletes, coaches, and parents that two to three months of mental game coaching is an adequate time frame to make lasting changes.
Most of our athletes enroll in a three-month program. Some choose to start with a one-month program and then renew each month. And it's not unusual for athletes to work with us for two years or more – on and off – during their competitive season. However, the speed of your mental game improvement depends on several factors, some which are beyond our control.
The speed of your mental game improvement during a sports psychology programs is influenced by several factors, including your:
Willingness to make changes. Some athletes stay stuck in old, ineffective patterns because they choose to hang on the effective beliefs or are resistant to change.
Commitment to the mental training program. This will determine your success with sports psychology coaching. If you are fully committed to learning, practicing, and applying mental training, you'll improve faster.
Ability to do assignments between sessions. The most work you do between sessions to come prepared to discuss mental game strategies, the faster we can proceed.
Support from other people, such as coaches or parents. A coach or parent may unknowingly be working against the concepts we teach in sports psychology. It's important for every one on your support team to instill positive mental skills.
Frequency and length of sessions with a mental game coach. We offer full day and half day programs for athletes who want to jump start their mental game education. The most time you spend on education, the faster you can apply it to your sport.
Ability to understand mental skills and apply to practice and competition. The number one challenge for most athletes with the mental game is applying it to competition. A gap exists between the understanding of sports psychology strategies and the application of them to competition. Some bad habits are hard to break especially under competition stress.
Please call us today at 888-742-7225 to schedule your free 15-minute introductory session or to request our sport psychology coaching programs.
---
Boost Your Self-Confidence And Focus With Expert Mental Game Coaching!
Master mental game coach Dr. Patrick Cohn can help you overcome your mental game issues with personal coaching.
You can work with Dr. Patrick Cohn himself in Orlando, Florida or via Skype, FaceTime, or telephone. Call us toll free at 888-742-7225 or contact us for more information about the different coaching programs we offer!
What are our mental coaching students saying?
"Your powerful mental game coaching strategies have really helped my son Matt improve his racing and get to the top of his class in motocross racing. In fact, he won a National Championship with your help. Thank you."
~Dan Boni, Matt's Father
"Dr. Cohn was very helpful in helping me get focused for competition. He taught me how to focus on the process, be confident in my abilities, and develop a preshot routine for shooting. I finished top five in the state with his help."
~Dave Gatlin, masters-level shooter
"First, I would like to thank you for the help given to me through your programs, 'The Confident Athlete' and 'The Focused Athlete.' I have made tremendous sacrifices though all these years to become a top Olympic Trap shooter but something was missing. This missing piece was my mental game. My scores increased tremendously in record time and others said that I was a different shooter."
~Marios Kapodistria
"I liked your e-book "Confidence! Mental Strategies To Think Like a Champion" even more. And found that I had deficiencies in my confidence that has hampered my game performance. I have instituted some of the concepts discussed in these books into my shooting preparation. These changes have improved my shooting skills and performance and are proving to be very beneficial. Thanks for your help."
~Charles Bremer