Bring Your Batting Practice To Games
In "Mental Training Sessions with Doc," Dr. Patrick Cohn answers your sports psychology and mental training questions about how to bring your practice game to competition and how to determine what's throwing your focus off before game time. Visit Peaksports.com and click on contact us to submit your question for Dr. Cohn to answer in his mental game videocast or podcast.
Here's the question Dr. Patrick Cohn answers this week:
Dr. Cohn, My son is a freshman on the High School Varsity baseball team. In practices he crushes the ball. During scrimmages he crushes the ball. During the games he struggles. I have tried to work with his technique and came to the conclusion it may be more mental than his technique. He is not performing in the games as he does in practices. How can he get this under control?
Watch the video to see what tips Dr. Cohn gives to this sports dad to help his son.
Unsure if mental game coaching is right for you? Call us today at 888-742-7225 to set up a free 15-minute session to see if mental game coaching will benefit you.
Head over to http://goo.gl/PHF7Xx to learn more about our coaching programs!
Don't forget to subscribe to our YouTube channel to be updated on all our latest videos!

Subscribe
to the Peaksports YouTube channel now to receive updates on our new content!
---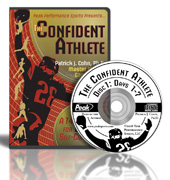 Bring Your Practice Game To Competition Today!
The Confident Athlete CD program helps athletes learn powerful pregame routines to stay calm, focused, and poised in competition.
Learn more about one of our most popular CD programs in The Confident Athlete Series…
The Confident Athlete: A 14-Day Plan For Ultimate Self-Confidence