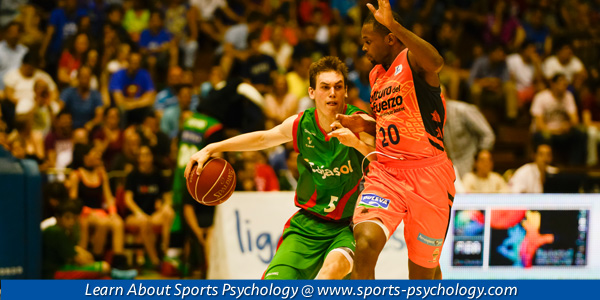 Embracing Sport Psychology in Youth Sports
Many sports parents and coaches want to know how to help athletes accept sports psychology as a means to improve performance. Parents are unsure about how to introduce young athletes to sports psychology. Many athletes just do not understand what mental training really is. In our survey, 53% of coaches said athletes shy away from mental training because they don't understand it!
How do you help young athletes understand the value of mental training?
First, you have to understand why they resist it. Many athletes do not accept it because of the negative stigma associated with psychology. Do your athletes look at sports psychology as something used by "head cases" only? Do your athletes fear that teammates will harass or tease them for working with a sports psychologist?
One goal has to be educating young athletes about the benefits of sports psychology and helping them get past the old myths that still exist today about working with a mental game coach. Many athletes still think that sports psychology is only to help athletes crawl out of slumps, for example. However, mental training helps well-functioning athletes perform more consistently too.
This topic is so important that my sister Lisa and I wrote a sports psychology e-book for members at Kids Sports Psychology. The eBook is titled: "Helping Young Athlete Embrace Mental Training."
To help young athletes accept sports psychology, coaches and parents must communicate the benefits. They must understand that mental training is not a last resort for struggling athletes or helping athletes who are head cases. Mental training helps athletes improve their game be learning how to focus better under competition stress.
Athletes who are considered mentally tough improve their performance and mindset. Help your athletes understand some of the common challenges that may indicate they could benefit from sports psychology.
Do they perform like stars in practice, but choke during games?
Do they worry too much about disappointing teammates or parents? Do they want to hide after a loss? If so, sports psychology can help them get better.
Another option is to point out professional athletes or role models that use sports psychology to improve their performance. Andy Murray, for example, recently admitted to using a sports psychologist to improve his performance in majors! His coach Ivan Lendl suggested he work with a sports psychologist and it paid off in 2012 when he won his first major.
Young athletes do resist what they do not understand.
You want athletes to understand the benefit of sports psychology and mental training, not adopt the myths. You also want to remove the negative stigma associated with working on the mental game. I suggest you call it mental toughness training, not sports psychology as mental toughness training is easier for athletes to accept.
In addition, seek out teammates, older athletes, or professional role models you know as examples of athletes who are benefiting from using sports psychology to improve performance. Often, when athletes see that it can help their peers, they are more likely to try it for themselves.
If you have young athletes who compete in sports, consider a membership to Kids' Sports Psychology.
---
Boost Your Self-Confidence And Focus With Expert Mental Game Coaching!
Master mental game coach Dr. Patrick Cohn can help you overcome your mental game issues with personal coaching.
You can work with Dr. Patrick Cohn himself in Orlando, Florida or via Skype, FaceTime, or telephone. Call us toll free at 888-742-7225 or contact us for more information about the different coaching programs we offer!
What are our mental coaching students saying?
"I am a Brazilian coach in Tempe, AZ. I am the vice-president of the Arizona State Brazillian Jiujitsue Federation, long story short, I would like to say that you have a great program; you have been able to help me and my competitors. My fiancee, Kristina Barlaan, who just won two medals at the 2012 World Championship has also mentioned your program as a big help."*
~Gustavo Dantas, Coach
"After your session, Mason had a game. He had the best game so far! He hustled, shot, no goals but two assists but he was cool with it because his focus was on shooting and not scoring (finally), defended well with his hands – finally put it all together. It was fun to watch and you could tell he felt really good about it."*
~Kelly, Lacrosse mom
"The sessions have been so helpful. Dawson has been playing really well and more importantly feeling great about it all."*
~Kecia Muller, Lacrosse Parent
"WOW!!! What a week I had. I was able to perform with a confidence that allowed my style to shine through–no more entering the arena with that "deer in the headlights" look or feeling. I stopped evaluating myself while I was performing, and I actually left the arena after my patterns feeling like I had experienced a lot of fun. Thank you so much."*
~Julia Dreyer, National Champion Equestrian