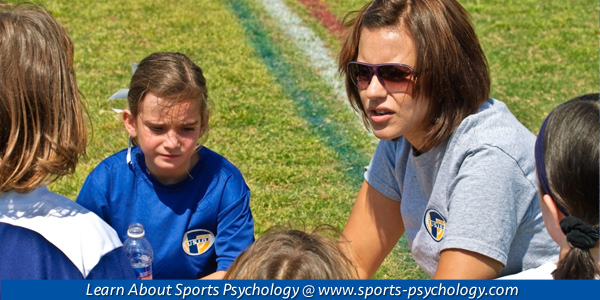 Help Your Kids Avoid Sports Drop Out
More then 70 percent of children drop out of organized sports by the time they are 15.
As sports parents, it's up to you to try to keep sports as fun and stress-free as possible to avoid having kids drop out.
The number one reason your kids will quit sports is too much pressure from adults, which leads to less fun for kids.
If they feel pressure or high expectations, they will be afraid to make mistakes. When kids feel like they shouldn't make mistakes, it will take them out of the game, making playing less enjoyable.
Sports are fun when kids are immersed in the competition and focused completely on the task at hand.
Instead of pressuring your kids with high expectations, help them set tangible goals.
First, identify their long-term goals. Where do they want to be a year or two from now, or even next season? Then, help them set mini-goals–what they will think about during practice and what they should be practicing.
Make sure these goals are all coming from your child, not you, and they know they can change these goals whenever they want.
Next, help your child learn to cope with mistakes. Failing to cope with mistakes and feel frustrated a lot can damage your kids' athletic development, take the fun from their sport, and prompt them to quit.
Tell your athletes that the better they are at making mistakes, the faster they will improve! It may seem counter-intuitive, but being great at making mistakes, i.e. being able to move on mentally from the mistake as quickly as possible, will make your child improve faster—faster in fact, than learning any other mental game skill.
However, letting go of mistakes is one of the hardest things for young athletes. Often they get frustrated or angry because of their mistakes and lose their composure. This of course leads to losing focus during the game.
Kids tend to re-living the mistake in their minds instead of keeping their heads in the game.
Be clear that you appreciate the importance of mistakes! Tell them they should be ready to take risks and accept the mistakes that come with them as just another part of the game.
Want to learn more about how to help kids play with less pressure, have more composure, and avoid joining the ranks of sports dropouts? Check out our latest program, "10-Minute Pregame Prep," here:
---
Pregame Mental Preparation for Young Athletes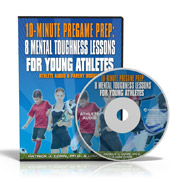 Young athletes, their parents and coaches tell us that sports kids often struggle with these pregame mental game challenges:
They don't trust in their skills when they go from practice to competition
They hang on to mistakes and dwell in them in competition
They worry too much about what others think about their performance
They feel pressure to excel from expectations they feel from others
They fail to take charge of their confidence before the compete
They focus too much on the outcome instead of the process
They tighten up and play safe when they feel pressure to succeed
They interpret pregame jitters as harmful to their performance
"10 Minute Pregame Prep" will tell you everything you need to know about ensuring your sports kids avoid classic mental game pitfalls before a game, learn how to trust their instincts, and just go for it. It provides lots of advice for you, too…
Parents ask us:
"I am more nervous than my son before games. How do I as a parent stay calm and not show I am nervous before games?"
"My challenge is not to talk too much about the upcoming games or what they need to do. I want to psych him up and encourage him but don't want him to feel that he has to perform perfectly."
"How do I support my athlete without putting more pressure on him?"
With our program, you can stop wondering what to do and relax before your kids' games!
Learn more about "10-Minute Pregame Prep"….
Don't forget to get your FREE download (located in the middle of the page) of Lesson 1 from the Parent's Manual!
Sign up for our free report to receive weekly emails and tips:
"10 Tips to Improve Confidence And Success in Young Athletes"