Cleveland Cavilers Mindset For Playoffs
After all your training is complete, your mindset is everything when it comes to performing consistently in sports.
Your mindset is the difference between winning and losing.
Your mindset separates average play and next level-performance.
The biggest area affected by your mindset is the way you respond to adversity.
An avoidance mindset focuses on avoiding problems rather than focusing on solutions.
When your mind is focused on problems, more problems ensue such as:
Anxiety
Lower confidence
Loss of focus
Uncharacteristic mistakes
Intense negative emotions
A negative mindset can be summed up by the statement, "Whatever happened to me?"
A positive mindset can be summed up by the phrase, "Whatever it takes!"
A positive mindset focuses on solutions, therefore, your confidence stays intact and you maintain an even keel emotionally.
A positive mindset centers around, "What can I do?" Rather than, "What can't I do?" or, "What haven't I done?"
"Whatever it takes" is the motto adopted by the Cleveland Cavaliers for the 2018 NBA playoffs.
The Cavaliers' mindset is to focus on doing everything in their power to win which includes high-level preparation, laser focus, aggressive play and doing all the little things that lead to success.
Even after a disastrous 98-80 loss to the Indiana Pacers in Game 1 of the Eastern Conference first-round series, the Cavaliers still were focused on doing whatever it takes to advance in the playoffs.
The Cavaliers understand that there are no easy games in the playoffs, so the team moved on from Game 1 and prepared to battle in Game 2.
Cleveland forward, Kyle Korver, summed up the mentality of the team and their commitment to do "whatever it takes" to swing the momentum in their favor.
KORVER: "Every moment is big in the playoffs. Moments can change games, moments can create a run. So I think that's on all our minds. If there's a loose ball, dive on the floor. If you can take a charge, do that. The playoffs are all about scratching. Whatever it takes."
The Cavaliers "whatever it takes" mindset helped the team fight through a highly contested match up against the Pacers in Game 2 to pull out a 100-97 victory.
Which type of athlete are you?
Are you the type of athlete who is dragged down by thoughts such as, "What has happened to me?"
Or the athlete who has the mindset, "What can I make happen?"
The reality is that your mindset is a choice.
If you want to have a "whatever it takes" mentality, then you need to consciously make the choice to foster those types of positive thoughts.
You need to let go of what has happened and, instead, make things happen.
A positive mindset will not happen automatically.
You need to choose the mindset that enables you to perform at your peak, then, act accordingly.
How to Develop a Positive "Whatever it Takes" Mindset:
Choose a motto for yourself that will highlight a positive mindset…
How do you want to compete under the big lights?
How do you want to play when your game is off?
How do you want to play against tough competition?
Consider this motto as your personal slogan similar to Nike's, "Just do it."
Frequently recite your personal slogan to yourself to keep you focused on what you want to make happen.
---
Improve Concentration in Sports!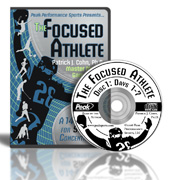 If you're an athlete who is frequently distracted, loses focus in competition, or wants to learn more about how to focus better under pressure, The Focused Athlete is for you!
Concentration and the ability to focus under adversity is what championship athletes do best.
It only takes one distraction to enter your mind for you to lose a critical point, miss a putt, or lose a second off your lap time. You cannot afford to let distractions run wild in your mind and cause you to make errors at critical times in the game!
The Focused Athlete is a complete system to teach you how to focus like a champion and harness the power of a zone focus every tie you step on the playing field, court, track or course in practice and games!
This workbook and CD program consists of 2 audio CDs that include 14 days of focus boosting exercises and a simple to follow workbook that guides you through each of the 14 days, helps you apply strategies, and customizes the exercises to your personal focus challenges.
You'll Discover:
How to use preshot routines before shots or serves to help you be more task-focused instead of worrying about results.
How to use pregame routines to help you harness the power of zone concentration before competition.
How to quickly identify distractions that sabotage your concentration and how to quickly refocus after distractions.
Learn more about one of our most popular CD programs in The Confident Athlete Series…
The Focused Athlete: A 14-Day Plan For Superior Concentration
What are customers saying about our mental game programs?
"I just finished 'The Confident Athlete Program'. Improving confidence is a never ending process. I think that confidence boosting is an awesome area. Having a daily mental plan for mental "work outs" can turbo charge anyone's confidence level…. Studying almost all of Dr. Cohn's mental game materials gives me a real EDGE over my competitions and most importantly – a boost in my daily life."
~Radek Sefcik, peaksports.com member
"I enjoyed 'The Confident Athlete Series' very much. I particularly liked the format, the ease of the program, and the 2 CDs that accompanied the workbook – 10-20 minutes a day was simple to adhere to and put in my busy schedule. I love the part about confidence with grace, and what I want to portray and feel the minute I step foot into Los Angeles for nationals. I love the affirmations, the relaxation techniques, and just the entire perspective of the program."
~Sarah, US National Aerobic Gymnastics Team