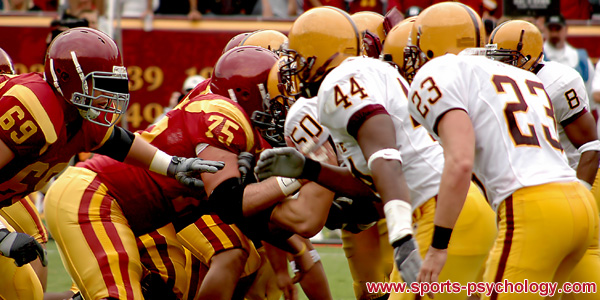 How to Overcome Adversity in Sports
Which of the following statements is more indicative of who you are as an athlete?
When the going gets tough, I get excited… Or when the going gets tough, I feel defeated?
The attitude you adopt or the mindset you choose is the ultimate determining factor as to how well you face adversity as an athlete… and you WILL face some adversity throughout your career.
When you least expect it, adversity will strike.
Adversity has many faces, such as:
Tough losses
Bad officiating
Judgmental teammates
Coach biases
Parental expectations
Critical competition mistakes
Rude spectators
Missed opportunities
Under-performing at critical moments
Personal obstacles
Mental mistakes
This list is just the tip of the iceberg. You could probably rattle off many personal obstacles you have experienced in your athletic career.
Every athlete has faced adversity in sports.
No athlete, no matter how successful, talented or lucky they appear to be, will experience smooth sailing throughout their career.
Of course, some adversity may seem more intense than what other athletes face but, if you are to be successful, you need to learn how to triumph over adversity.
The Los Angeles Chargers lost their first four games of the 2017 NFL season. Only one NFL team in modern history has ever recovered to make the playoffs after going winless in their first four games.
Many teams who have faced similar adversity have imploded as negativity, finger pointing, frustration and half-hearted effort ran rampant.
Instead of getting defeated, the Chargers got going when circumstances got tough. The Chargers maintained a positive mindset as they found a way to right the ship.
Over the next nine games, the Chargers posted a 7-2 record keeping their playoff hopes alive.
Chargers quarterback Philip Rivers revealed how the team was able to bounce back from adversity.
Rivers highlighted the team's "get grinding" mentality as well as their experience overcoming adversity as the reasons for the Charger's recent success.
RIVERS: "Enough guys on this team have been in the league long enough to know that there are stretches where things can get bumpy and rocky. And the guys that have been here, we've been through it plenty of times."
If you want to overcome adversity, you need to have a similar mindset.
Adversity can be a stepping stone to something greater or a learning experience that can be utilized in future similar situations.
Tough times never last, but tough people do.
You are capable of rising above adversity if you have the right mindset and use your past adversity to your advantage.
It is important to keep in mind that every season you will go through tough times. It is your decision whether or not you get going and move forward.
A Winning Mindset for Adversity:
Understand you are capable of handling adversity and its only temporary, not long-term.
Use your past adversity as evidence to support that you can overcome what you are facing today and become stronger.
Keep confident that your team or performance will eventually turn for the better. Look for the small signs that your game is recovering.
Start by working on letting go of mistakes with The Composed Athlete program.
---
Boost Your Self-Confidence And Focus With Expert Mental Game Coaching!
Master mental game coach Dr. Patrick Cohn can help you overcome your mental game issues with personal coaching.
You can work with Dr. Patrick Cohn himself in Orlando, Florida or via Skype, FaceTime, or telephone. Call us toll free at 888-742-7225 or contact us for more information about the different coaching programs we offer!
What are our mental coaching students saying?
"I felt the time spent in your seminar was very well organized. The topics were great and you had the coaches communicating in an open atmosphere. Thanks again for your time and effort and I look forward to talking with you in the future."
~Coach Dave Wannstedt, Miami Dolphins
"Your response to the throwing problem in front of the coach covers so many situations in life…that is the beauty of playing sports…the life learning experiences. Keep up the good work…you are the best mental coach."
~Bill Brennan, sports parent
"Thank you so much for taking the time to work with our team while we were down in Florida. The tips you gave about relaxation and releasing tension before we bat or do anything was very beneficial to me. I find that I even use it during my classes at school."
~Ann Miller, Softball player
"After your session with Tyler, he is hitting Awesome! He got his first out-of-the-park home run and is scoring lots of doubles. He has a totally new attitude thanks to you!"
–Debbie Hartman, Tyler's Mother
"A big thanks to you Dr. Cohn! I just can't get over how much of a wonderful resource you are Patrick for the mental game of motocross! Never in the history of sports have I had such an upper hand with your mental strategies!
~Nicky Labrecque, Motocross racer