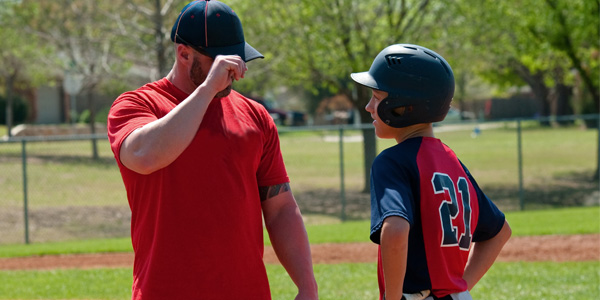 Steps For Success
If your young athlete has trouble staying composed in competition, loses confidence or composure after mistakes, or does not perform well in competition compared to practice, then one-on-one mental training is the best option to help your athletes improve his or her mental game.
At Peak Performance Sports we get a lot of calls from parents who are interested in mental training for their young athletes. They want to know more about the process is and if their athletes are old enough to do sports psychology coaching.
We work with athletes as young as 10 years-old, but every kid is different, so we want to make sure mental training or sports psychology coaching is the best option to improve your athlete's performance in sports.
Here's the process we follow to determine if a young athlete is a good candidate for mental training:
Step 1: Gather background information from parent about the young athlete:
When we speak with parents of young athletes, we first will gather background information about what sport the athlete plays, the age of the athlete, and any challenges they are having mentally in sports. For example, does the athlete perform great in practice, but get super nervous in completion? Does the athlete lose emotional control if he or she makes a mistake or loses a game?
We also answer any questions the parents may have about how mental training or sports psychology coaching works. When we work with young athletes, we involve the parents as much as possible. We take a "team approach" to best help a young athlete succeed in his or her sports.
Step 2: Free-15 minute introductory session with the athlete:
The next step is to speak with the athlete to determine if he or she a good candidate for mental game coaching. When we speak with a young athlete, we help them understand what mental training is and how it can help them perform by learning about confidence, composure, and focus.
Athletes who are motivated to learn about sport psychology strategies do very well with the training and report feeling more confidence and focus once they complete the program. If your athlete is open to talk about some of his/her challenges in sports and seems motivated for mental training, we know that mental coaching is a good options them.
On the other hand, some athletes are resistant, do not understand mental training, and therefore may not benefit as much from the program. By talking to the athlete for a few minutes, we can determine if they are ready to enroll in a sports psychology coaching program.
If a young athlete resists talking with us about mental coaching and only gives one-word answers, then they may not be ready for one-on-one mental training. We would then recommend a mental training workbook and cd program from The Confident Sports Kid Series.
Step 3: Talk with the parent again:
After we've spoken with the athlete, we let the parents know if we think mental training is the best fit. We want to make sure we recommend the right sports psychology coaching program for your athlete, so he or she will get the most improvement.
If we think the young athlete isn't quite ready, then we would recommend a mental training workbook and cd program from The Confident Sports Kid Series. We also recommend that the parents join Kids' Sports Psychology Online Mental Training Site.
If the athlete is motivated for mental training and spoke openly about his/her challenges, we let the parent know that their athlete will likely benefit from mental training.
Step 4: Fill out mental training assessment and forms:
Once we've determined the athlete is a good candidate for sports psychology or mental coaching, we have the parents complete a two forms. The athlete will complete our mental game or sports psychology assessment called the AMAP (Athlete's Mental Aptitude Profile) with help from the parent.
Step 5: Mental Coaching begins!
Depending on which program you chose, we'll meet with your athlete once per week (in person, via Skype, or phone). We customize our mental training programs to your athlete's challenges. We give your athlete specific mental strategies to help them improve confidence, composure and focus. We know that when kids are confident, they have more fun in sports!
As mentioned above, we work closely with the athlete's parents and give them resources on how to best support their athlete's confidence. In addition, we are open to speaking with the athlete's coach to ensure all parties are on the same page.
The young athletes we work with have shown great improvement. Many sports parents report that their athletes are more confident, able to move on from mistakes, more focused during competition, and have more fun in sports!
Related Articles:
---
Boost Your Self-Confidence And Focus With Expert Mental Game Coaching!
Master mental game coach Dr. Patrick Cohn can help you overcome your mental game issues with personal coaching.
You can work with Dr. Patrick Cohn himself in Orlando, Florida or via Skype, FaceTime, or telephone. Call us toll free at 888-742-7225 or contact us for more information about the different coaching programs we offer!
What are our mental coaching students saying?
"She did really well with controlling her emotions during the matches today. We were very proud of her for not showing her frustrations during the match; I think that was a big accomplishment. She really looked in control of her emotions even when she double faulted or made mistakes. The changes we saw in her behavior in less than 24 hours were AWESOME! Thank you for your guidance!"
~Jennifer, Tennis Parent
"Thank you for all the knowledge, tools, material, and guidance you have given me throughout the MGCP course. It was truly a great experience. I am looking forward to integrating your mental training system to students at the club, as well as to athletes that truly are committed, and strive towards reaching their peak performance."
~Tim Whitehead, Tennis Coach
"On behalf of all of our coaches who attended the 2004 ITA Coaches Convention, I would like to thank you for serving as a featured clinician. I know that the coaches felt it was both enjoyable and informative. We greatly appreciate your taking the time to prepare and present such an outstanding clinic for the benefit of our coaches."
~Nancy Breo, ITA Convention
"Patrick, with your great instruction on the mental game, I had the best nationals I have ever had. And even more important, I got through the five days relaxed and had fun – a new concept in my life! The bottom line – I got five firsts and one second! Thank! You are just what I needed."
~Dennis O'Brien, swimmer & member