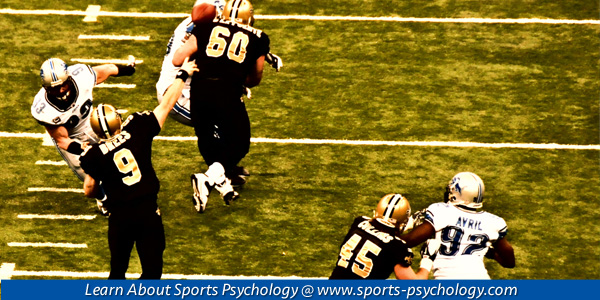 Sports Psychology Strategies
Are sports psychology exercises valuable to athletes and coaches? Yes, they should be part of your mental training program. However, many athletes are not familiar with what sports psychologists and mental game experts do. Doing exercises in sports psychology is much more than visualization and goals seeing. Can these exercises help athletes? Yes, absolutely, but sports psychology coaching involves much more because exercises are a small part of the entire mental training package.
I teach my certified Mental Game Coaching Professionals (MGCP) a four-step process in mental skills education, which includes:
Awareness
Education
Practice
Application
Each of these steps in the sports psychology coaching process is vital to athletes' success with improving mental toughness. Most sports psychology exercises are useful under all these stages of learning.
In the awareness phase of learning, we help athletes uncover the mindsets and beliefs that impede their performance. We do this using a sport psychology assessment, the AMAP assessment, and a follow up interview called a discovery.
In addition to uncovering ineffective mindsets, we ask athletes to recognize when they are engaging in unhealthy thinking, such as when athletes worry too much about what others think; they become too self-conscious. We call these awareness exercises, which bring mental game barriers into the athlete's attention.
In the education phase, we use sports psychology exercises to help athlete understand the changes they want to implement in practice and competition. For example, athletes learn how to do role-playing to be more objective about their thinking.
We also apply sport psychology exercises to our workbook and CD programs including The Confident Athlete series and The Confident Sports Kid series. We design the workbook exercises to help athlete uncover distractions, for example, and learn how to refocus after distractions.
In the practice phase of learning mental game skills, athletes learn how to integrate what they are learning into their regular training routines. Here, we teach athletes to use the refocusing strategies in practice.
In addition, we ask athletes to use mental rehearsal to both review and practice sports psychology strategies. This exercise involves athletes mentally rehearsing their refocusing statements. They might imagine becoming distracted and using their refocusing statements.
In the application phase, athletes learn how to apply sports psychology strategies to competition. This is a vital step in the mental coaching process and without it no behavior change can take place. We use several sports psychology exercises to help athletes with this vital step in mental training.
For example, the use of a pregame routine is one way to apply mental training to competition. Here, athletes use mental imagery, self-talk, relaxation, and confidence-building exercises to help them prepare mentally for competition.
What about post-competition sports psychology exercises?
Mental training can also be effective for post-competition as well. We teach athletes how to assess their mental game performance using a post-performance journaling exercise. The exercise helps athletes to monitor their improvement with mental training and also record a few ideas to discuss with their mental game coach.
If you want more information about mental training programs or products to improve your mental game, please visit Peak Performance Sports' sports psychology coaching programs.
---
Boost Your Self-Confidence And Focus With Expert Mental Game Coaching!
Master mental game coach Dr. Patrick Cohn can help you overcome your mental game issues with personal coaching.
You can work with Dr. Patrick Cohn himself in Orlando, Florida or via Skype, FaceTime, or telephone. Call us toll free at 888-742-7225 or contact us for more information about the different coaching programs we offer!
What are our mental coaching students saying?
"Ashley wanted me to let you know that she placed very well at her competition this past weekend, thanks to you! She won the short, won the long, and had her personal best.  She now looks at her competitions like ice shows and has fun. It is really nice to see her thoroughly enjoying the skate. She is very focused and very confident. We definitely attribute this to you."
~Brenda Glassco, Skating Parent
"I just wanted to let you know that my son skated this weekend at our Regional Competition.  He worked his mental game and everything you taught him.  He skated two wonderful programs, scored a personal best and ended up with the title of Pacific Northwest Regional Champion at the Intermediate level.  Thank you for your wonderful training.  He had the right focus and had so much fun at this competition.  The title is sweet icing on the cake."
~Pomaika'i, Sports Parent
"Kayleigh handled the pressure very well while many of the girls around her crumbled. She skated very well & ended 6th among the top 40 in the country. She achieved her personal best in both her short program & overall & tied her personal best in the long. I think you have really helped her!"
–Kathy Maksymec, parent

"I liked your e-book "Confidence! Mental Strategies To Think Like a Champion" even more. And found that I had deficiencies in my confidence that has hampered my game performance. I have instituted some of the concepts discussed in these books into my shooting preparation. These changes have improved my shooting skills and performance and are proving to be very beneficial. Thanks for your help."
~Charles Bremer