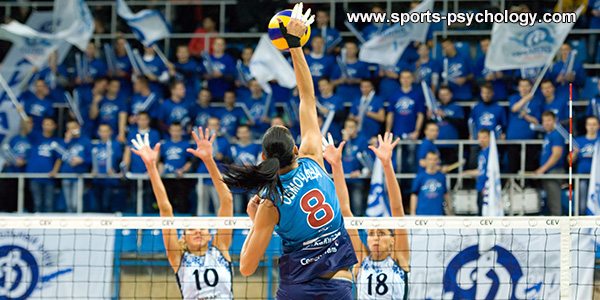 Volleyball Players Who Dwell on Mistakes
As a former player and coach, I've been around many elite volleyball players and their game.
I've played with and coached players who were able to let go of mistakes or distractions and were the model of a "one-point-at-a-time" mindset.
In contrast, I've been with athletes who either focused too much on the past or future, or both…
They continued to think about their first missed serve, double, or net violation. Or, they might have maintained an outcome focus; focusing on winning or losing and what happens with each scenario.
I coached a setter one club season, and she was good. She consistently outperformed the second setter on the team. This player also ended playing for a D1 in North Carolina; just talented.
During this particular club season, she received two "double" calls within the first two days of a three-day tournament. Doubles were uncommon for this setter and she didn't know what was going on. Honestly, both of the sets looked clean.
The third day was Championship Sunday and our team was playing for Gold…
This setter, who was our first setter lost her composure in the first set of the first match. She got called for another double.
As we went into the second set, she said she couldn't do it and the other setter had to set. This player wasn't able to let go of those calls. Therefore, she struggled to move on and continue playing in the present.
A volleyball player touches the ball countless times during a match.
A libero, for example, is going to pass the ball the majority of times it comes over the net. The setter is going to touch the ball around 98% of the time her team has possession, as they have every second ball.
Volleyball is a "one-point-at-a-time" game, and success comes when that is how it's played.
It's easy to say "play one point at a time," right?
Though, when it's all said and done, more is said than done.
HOW do you let go of errors?
HOW do you play in the present?
HOW do you play one point at a time?
One strategy to direct your focus and help you develop a one-point-at-a-time mindset is to use performance cues.
Performance cues are relevant to your specific tasks, such as serving, serve receive, blocking, setting, attacking, and so forth.
A performance cue for a setter may be something like, "Feet under the ball," "Hold your finish," "Know your hitter options," etc.
You want to develop one or two performance cues that are relevant to your specific role on the court.
Use these cues after an error, another distraction, or as a strategy to guide your game plan. These will help in letting go of mistakes and upholding a present focus.
Remember, you don't play your best when you dwell on the past or think too far into the future.
You physically play in the present and you maintain an advantage when your mental and physical game connect.
If you need help with your mental game, please contact us for the options today.
Written By: Dr. Megan Melchiorre
---
The Mental Game of Volleyball Feedback
We'd appreciate if you tell us about the mental game challenges you and your volleyball players face and how we can help you improve your mental game in volleyball.
Below is a link to a short survey. It should take only one minute of your time. (Of course, the survey is anonymous.)
This survey will give us the input we need to bring you the most relevant and practical information about how to improve your mental toughness in volleyball.
Please take one minute to complete this survey. In return, you can download a free bonus to improve serve receive mental preparation:
---
Boost Your Self-Confidence With Expert Mental Game Coaching!
Expert mental game coach Dr. Megan Melchiorre can help you overcome your volleyball mental game issues with personal coaching.
You can work with Dr. Megan Melchiorre herself in Orlando, Florida or via Skype, FaceTime, or telephone. Call us toll free at 888-742-7225 or contact us for more information about the different coaching programs we offer!
Dr. Megan Melchiorre is a mental game coach specializing in volleyball and is the newest member of the Peak Performance Team starting in office May, 2018. She competed collegiality in volleyball and coaches club volleyball teams.
You can learn more about our mental coaching programs for volleyball players here.