Use Your Mind to Improve Consistency in Golf
How is it that some golfers follow up a great round of golf with a disastrous round the very next time they play?
What accounts for these variations in your level of play?
Well, the weather might change causing slightly different course conditions and you may be playing in a different group, but these changes will be similar for every golfer teeing off.
What really affects consistency the most is your mindset… Your thoughts or mental approach to competing each day.
Consistent mental preparation leads to consistent performance, which applies to your preround prep and preshot routines.
Some players go out on the golf course with the mindset: "Let's see what today has in store for me."
Successful golfers prepare themselves mentally and put themselves in the proper mindset that has helped them perform successfully in the past.
Preparing yourself mentally is no different than warming up and taking practice swings.
Your warm up serves the purpose of helping your feel comfortable and ready for the first hole. If you are not physically prepared to play, you can practically guarantee an inconsistent round.
The same is true of mental preparation… Having the most effective mindset for the day readies yourself for the challenges of the day.
Without mental preparation, you have little hope of being consistent on the golf course.
Since consistency is the hallmark of great golfers, you must learn mental strategies to keep you from veering off course, so to speak.
One PGA golfer who has struggled with consistency is Rickie Fowler. Fowler's performance seems to drop off significantly after some of his best rounds, which is a phenomenon that happens to many golfers…
At the 117th U.S. Open, Fowler opened with a 65 on the first round to top the leaderboard. On Day 2, Fowler had difficulty repeating his level of play from the previous day and shot a disappointing 73.
Fowler rebounded with a 4-under 68 during Saturday's third round and entered the Final Round in fourth place and within striking distance of the leader (2 strokes). With a consistent round, Fowler could have wrapped up his first Major title.
Instead, Fowler shot a 72 and finished tied for fifth…
Of course, you will have an occasional bad round or a few bad holes, but if you can keep your mental approach to each tournament and each shot consistent, then you improve your chances of performing more consistently over the course of a round or tournament.
How to improve your consistency on the golf course:
Consistent play is all about consistent mental preparation, both before a round of golf and during the round.
Develop a consistent preround routine. And a routine is not just about your physical warm up. It should be more about mental preparation:
Mental Preparation Includes:
Letting go of outcome expectations
Fueling your confidence
Preparing to trust your swing
Preround visualization
Using the butterflies to your advantage
Get all my mental strategies with The Golfer's Mental Edge Audio and Workbook program:
---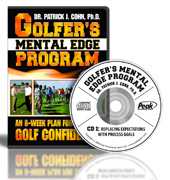 Learn Proven Strategies to Perform with Confidence!
Do you suffer from fragile self-confidence after missed hits, playing with strict or high expectations that undermine confidence or the inability to play freely and relaxed on the course?
If you suffer from lack of focus, low self-confidence or other mental game obstacles on the course, you cant reach your true golf potential…
What are mental game customers saying?
"Thanks for all your help Dr. Cohn. You can rest assured that all our work came in very handy when I successfully qualified for the European Tour. I'm very happy and extremely thankful to you for helping me achieve this massive goal of qualifying for the European Tour! Thanks a lot again."
~Alex Rocha, European Tour Player
"Last weekend Lisa played in a Florida Junior Golf Association tournament in Gainesville. She played great and won (74-70=144) over 43 other competitors! She's starting to really believe in herself and her stats are improving each tournament. She is thinking better and making much smarter decisions on the course. Thanks again for your help Dr. Cohn."
~Scott Tyler, Father of Lisa Tyler