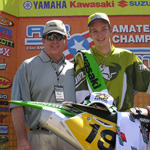 At Peak Performance Sports, we understand that mental training with athletes using sports psychology strategies is only the first step to improving performance. Our ultimate goal is for athletes to take this education and apply it to their sports performance.
If an athlete understands sports psychology strategies, such as how to refocus when distracted, but cannot do in practice and competition, they will see little or no improvement in their mental game program.
For example, many of our athletes can recognize that the frustration they feel about making a mistake causes them to lose focus and make more mistakes. In our first few sports psychology sessions, they soon become aware that dwelling on mistakes only hurts their performance.
Is the problem or what we call mental game challenge solved? No. Understanding how you mental game is holding you back is important but the most important step is taking action and applying the sports psychology strategies in competition.
Athletes contact every day that want to learn more about sports psychology and have read a lot on the mental game, but still struggle with their performance. They are missing that critical step: application or taking it to competition.
Many things prevent athletes from not bridging the gap between education and application. A big barrier is that old habits of thinking are hard to change. Also, it takes repetition and practice to be able to use it on demand in competition.
We also help our athletes understand that sports psychology coaching takes time and commitment. It isn't just a quick fix. The mental strategies have to be practiced on a daily basis, just like any other skill in sports.
If a pitching coach, for example, explained in full detail how to throw a curve ball, would a baseball player be able to master the new throw right away? No. The athlete would have to practice and apply the instruction day in and day out in order to be able to throw a curve ball accurately and consistently.
Learning and applying sports psychology coaching strategies is much the same. Our mental training programs begin with education but application is the meat of the program. Fortunately, we have several tools we teach athletes to help them both learn and apply sport psychology strategies to competition.
We receive testimonials every day from our athletes who, after completing our mental training program. They learn how to apply the sports psychology concepts to improve their performance.
"Dr. Cohn's mental coaching has helped me immensely. It has taught me what to focus on in and out of the racecar. How to stay calm and focused have been key skills that I have learned which have helped me be a better and more confident racecar driver."
~AJ Allmendinger, NASCAR Driver
Learn how we can help you take YOUR game to the next level, call us today at 888-742-7225 to schedule a free 15-minute mental training consultation with a sports psychology coaching professional.
---
Boost Your Self-Confidence And Focus With Expert Mental Game Coaching!
Master mental game coach Dr. Patrick Cohn can help you overcome your mental game issues with personal coaching.
You can work with Dr. Patrick Cohn himself in Orlando, Florida or via Skype, FaceTime, or telephone. Call us toll free at 888-742-7225 or contact us for more information about the different coaching programs we offer!
What are our mental coaching students saying?
"I have enjoyed and benefited from your emails over the past year or two. I have been a player, parent, and coach in soccer over the past 40 years. Thanks for the assistance with the mental game resources."
~Kyle Congleton
"We try and spend 20 to 30 minutes a day working on the mental aspects of the game. My daughter is really enjoying it and feels it has helped and I know it has worked for her mother and I. I think you need to open a branch up here in Detroit, Michigan because there are a lot of parents and kids up here that need this information. Keep up the good work!"
~Scott Burgess
"Adam is truly one of your success stories. We purchased the CD program for him last year around this time. He is a soccer goalie and needed more confidence. The change was dramatic and he still goes through the exercises before a big game."
~Stella Prevost
"I thought Dr. Cohn did a great job with our mental coaching. I won ASF with a score of 9 and won Surfing America Prime. I was able to really tune n my focus and not get distracted during heats."
~Nicole Fulford, surfer