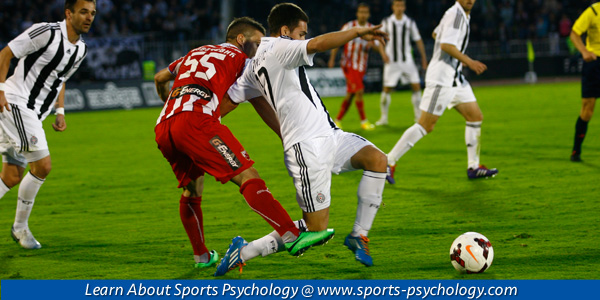 Introducing Sports Psychology to Young Athletes
Many sports parents want their kids to participate in a sport psychology coaching program. At Peak Performance Sports, we help parents find out if their kids are good candidates for a mental training program and can benefit from it.
In this article, I'll assume that your athletes are not performing as well as they can in competition due to mental errors, intimidation, tentative play, or indecision, which all indicate that your athletes can benefit from mental game coaching. However, are they ready for it? We try to ascertain a young athlete's commitment to a mental training program before we engage.
At what age are athletes ready to embrace mental training?
Are they ready and willing to commit to a program? We want all athletes and parent to understand that sports psychology coaching in not a quick fix—you talk to a mental game expert for an hour about the mental game and you are mentally tough. Sports psychology training happens over months or a season, not just one week. Athletes are taught mental skills—one at a time—to help them learn how to improve mental toughness.
First, if your athletes participate in other forms of performance improvement, such as functional training or fitness training outside or regular practice, they are more likely to commit to a sports psychology coaching program. This shows their dedication to improvement in their physical game, which is a good sign.
Second, when a parent contacts us about a doing a sports psychology program with their athlete, we request to have a short 15-minute introductory meeting with each athlete. We can usually determine an athlete's willingness and need to participate in a mental training program.
We want to find out:
Does your athletes understand the role of the mental game?
Does your athlete communicate an understanding of the challenges with his or her mental game?
Does your athlete conclude that he or she would benefit from an improved mental game?
Is your athlete being encouraged to do sports psychology training by others and is this the sole motivation for participation?
Yes, at Peak Performance Sports, we've had to turn down potential clients because we thought an athlete was not ready or willing to participate in mental training. We think a better option is to not start a program instead of doing one session and having the athlete stop the program.
Sometimes, athletes are not aware of the need for mental training because they are not aware of the role of a solid mental game in their performance. In other cases, athletes do not want to admit that they have a "problem" with their mindset or attitude. Some athletes think if they need help with the mental game, it's a sign of weakness.
In our introductory 15-minute meeting with young athletes (via the phone or Skype usually), we'll ask a series of questions about their mental game. We can also introduce the topic to athletes so they understand how sports psychology can help them perform better and enjoy sports more.
We also want to show athletes that we understand their situation and have seen the same issues with others athletes. The first meeting helps us build rapport and get to know each other before you commit to a sports psychology coaching program.
Contact Sports Psychology Coach today to discuss is your young athlete is ready for mental training.
---
Boost Your Self-Confidence And Focus With Expert Mental Game Coaching!
Master mental game coach Dr. Patrick Cohn can help you overcome your mental game issues with personal coaching.
You can work with Dr. Patrick Cohn himself in Orlando, Florida or via Skype, FaceTime, or telephone. Call us toll free at 888-742-7225 or contact us for more information about the different coaching programs we offer!
What are our mental coaching students saying?
"Since working with Dr. Cohn, I have noticed a dramatic improvement in my racing performance. Dr. Cohn has helped me to be much more confident in my racing and the results prove it!"
~ Matt Boni, MX National Champion
"Your mental coaching has helped me be mentally prepared ready to go racing. To be a MX champion, your body and mind have to work together on the track. Dr. Cohn helped me get on the podium even under tough circumstances and  strengthen my mental game-side of racing. I am ready to win this championship now."
~ Max Anstie, Pro Motocross racer
"Your work with my son Taylor has really helped him perform better under pressure. Your coaching is so good that I don't want our competitors to find out about our secret weapon: and that's YOU! Thanks Dr. Cohn!"
~Kevin Johnson, Taylor's Father
"Dr. Cohn's mental coaching has really helped our son Justin gain confidence in his riding and teach us how to improve teamwork on and off the track."
~Stephanie Starling, Justin's Mother