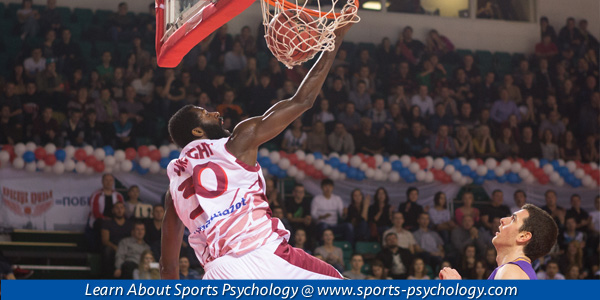 Embracing Sports Psychology
All athletes have coaches or trainers that physically prepare them for competition. Athletes spend a tremendous amount of hours honing their technique, working on game plans and competition strategy and physical conditioning in hopes of achieving success. Elite athletes recognize that, in terms of physical ability, the playing field is relatively even.
Talent and hard work can only take you so far in athletics. That's why many athletes seek to find advantages through other means, such as nutrition or recovery techniques. But the one component that provides the greatest advantage and return for your effort is mental training. Not only does mental training positively affect your mindset for competition, but it enhances your practice and training effort by improving focus, level of effort, confidence and speeds learning.
However, some athletes still don't understand the value of mental training or working with a sports psychology coach. They even think that mental training is a sign of weakness—if you have to get help from a mental game expert. They worry how others will perceive this. So these athletes avoid working with a mental coach or sports psychologist.
Romain Grosjean, 27, is a Formula 1 racecar driver currently driving for the Lotus F1 Team.  Grosjean has successfully competed in Formula and Open-Wheeled Series racing since 2003.  In 2012, Grosjean made his comeback to Formula One racing and collected three Formula One podiums (top three places) finishing the year in 8th place.
In his first 12 Formula One races in 2013, Grosjean had only two podium finishes. Grosjean then hired a sport psychologist to help with the mental aspects of racing. He understood that working on his mental game is not a sign of weakness, but rather a way to improve his performance on the track.
"I think I started because I was clever enough to think I needed help. It's not a proof of weakness, it is more a strong point because you can always improve yourself and that is why I work with a sports psychologist now."
As a result of working on his mental game, Grosjean took four podiums in the final six races of the season and ended the season in 7th place. Grosjean credited working with a sports psychologist as one of the keys to his strong finish in 2013.
Grosjean discussed insights learned from his weekly sessions with his sports psychologist and how his improved mindset and patience helped his mental approach to racing:
"Sometimes I've wanted to dance quicker than the music. Like in Monaco this year and I messed up the weekend because I wanted to go too fast for where we were. It's about being in the right time, doing the right things, managing the pressure and the stress, when it comes up, and knowing why and how. Seeing how people are reacting around you helps you understand the pace yourself. It's also about being ready to be a No. 1 and a world champion, which is not that easy at the end of the day."
If mental training greatly increases a racecar driver's chance for success, why do athletes hesitate or avoid working with sport psychologists? Many athletes still believe that asking for "help" is an admission of weakness. That something must be wrong with them if they have to work on their mental game.
The philosophy of all coaches is to take their athlete from where they are to reaching their goals. Sport psychologists or peak performance coaches have the same objectives.
A mental game coach or sports psychologist provides practical insight and proven techniques to better help an athlete succeed.
The melding of physical and mental training comes together to help racers perform at their highest level during races. Mental game coaching is not for weak athletes. Rather mental game coaching is to help you improve yourself and thus your performance.
If you want more information about mental training programs or products to improve your mental game, please visit Peak Performance Sports' sports psychology coaching programs.
---
Boost Your Self-Confidence And Focus With Expert Mental Game Coaching!
Master mental game coach Dr. Patrick Cohn can help you overcome your mental game issues with personal coaching.
You can work with Dr. Patrick Cohn himself in Orlando, Florida or via Skype, FaceTime, or telephone. Call us toll free at 888-742-7225 or contact us for more information about the different coaching programs we offer!
What are our mental coaching students saying?
"After going through a week of practice using your pre-kick routine, I was perfect on three field goals on a muddy field and a windy day in my final college game. Now I am entertaining the idea of trying to enter the professional ranks. Thank you for your help!"
~Nate Littlefield, Collegiate Kicker
"Since working with Dr. Cohn, I have noticed a dramatic improvement in my racing performance. Dr. Cohn has helped me to be much more confident in my racing and the results prove it!"
~ Matt Boni, MX National Champion
"Your mental coaching has helped me be mentally prepared ready to go racing. To be a MX champion, your body and mind have to work together on the track. Dr. Cohn helped me get on the podium even under tough circumstances and  strengthen my mental game-side of racing. I am ready to win this championship now."
~ Max Anstie, Pro Motocross racer
"Your work with my son Taylor has really helped him perform better under pressure. Your coaching is so good that I don't want our competitors to find out about our secret weapon: and that's YOU! Thanks Dr. Cohn!"
~Kevin Johnson, Taylor's Father